Teachers can create rich learning experiences based on the picture story books we have selected, and revisit the book throughout a unit to help bed down the 'big ideas'.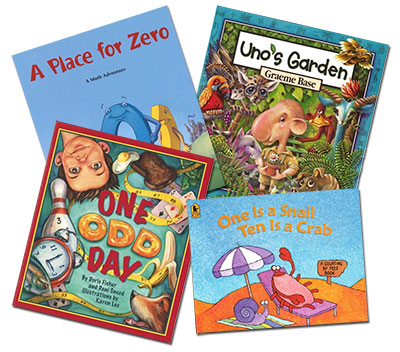 Picture books in mathematics examine big ideas through imaginative story-telling. They can motivate students by:
stimulating curiosity and interest in mathematical concepts
providing a platform for mathematical discussion where prior knowledge, conjecture and hypothesis can take place.
provide a 'so-what?' rationale for the learning, generally through the exploration of a 'real-life' mathematical conundrum.
Many of the books in this curated collection come with reviews and lesson plans written by Victorian teachers. The curriculum guide links each book to the Australian primary mathematics curriculum. Each book is available for purchase in the MAV shop. MAV members receive a 20% discount.
For a list of MAV's picture story books mapped to the Australian Curriculum click here.
Find our picture books in MAVshop HERE
Browse picture books by year level
Book reviews

The following book reviews have been contributed by MAV members. Have a favourite picture story book you would like to tell us about? Please send us the title, author, illustrator, name of the school and grade of the teacher providing the review. Email the MAV team today. The MAV shop have a wonderful range of picture story books for teaching mathematics.

One Odd Day by Doris Fisher, Dani Sneed and illustrated by Karen Lee

Contributed by Andrew Noordhoff - Grade 3 Teacher, Jells Park Primary School

One Odd Day is a book by Doris Fisher. The book tells the story of a young boy who wakes up to discover everything in his world is 'odd', everywhere he looks he continues to find 'odd' things. This includes finding his shirt has three sleeves, a dog who has five legs and his teacher who has five arms.

The book itself was extremely engaging for the students. Reading it aloud the rhythmic nature of the words worked really well to engage the students. The students were tuned in immediately by the book title and front cover. Upon reading they understood the concept of odd by identifying the odd numbers on the clock. They showed delight when looking for the hidden numbers and odd creatures in the illustrations.

As a follow up to the activity the students were asked to use playdo to create their own 'odd creature' with odd features. The students created a range of different creatures and thoroughly enjoyed sharing their creature with the class and having other students find all of the 'odd' features of their creature.

The book was very useful to help students grasp the concept of odd and even and look for things in everyday life that they noticed was odd or even.

A follow up to the activity:

The children enjoyed creating their 'Odd Creature'.The book assisted the children in grasping the concept of odd and even. A follow up of the activity could be to write a book about 'The even day' linking in both Literacy and Numeracy concepts together.

Some comments from students:

I loved learning about odd numbers using the book - George
It was fun finding numbers in the book - Keira
Loved how the mum had two heads - Xander
Loved finding odd creatures in the book - Shiloh

Activity

Contributed by Nadia Costabile, Year 1 Teacher Jells Park Primary School

You could make something silly (Sam)
You could make whatever you liked (Jenny)
I loved making my creature look odd with an odd number of parts (Thomas)

One Odd Day [Review 2]

Lesson for Year 3 Low Ability Maths Group
Contributed by Andrew Noordhoff Grade 3 Teacher, Jells Park Primary School

One Odd Day by Doris Fisher and Dani Sneed is a picture story book about a boy who wakes up to find that everything around him is a little .... odd. We centred a lesson around this book for our Year 3 low ability maths group.

Outline

initial conversation about what odd and even numbers are.
other uses or meanings for the word 'odd' (for example strange, or chance and probability 'odds').
read the book One Odd Day.
discussed all the odd things (strange or uneven numbers, as well as the odds of these things actually happening etc) throughout the reading.
completed a follow up activity: make a very odd creature.

Reflection

As evidenced by the photos, the students had a fantastic time creating their monsters. Taking away a pencil and allowing them to get creative was a much needed motivation for some of these students who often lack confidence and enthusiasm.

As they created their monster, they consistently checked in to the criteria, ensuring that they had been using odd numbers, and also making the monster look odd or strange.

This activity would be fantastic for the junior years and was a welcome activity for the struggling Year 3 group. They now feel confident with the concept of odd and even numbers. The book effectively allowed for revision of odd and even, and students took delight in finding odd numbers and items all over the pages of this creative and exciting story. The teachers notes at the back of the book were also really helpful.

One Hundred Hungry Ants by Elinor Pinczes, illus. Bonnie MacKain

Ellen Corovic - Mathematics education consultant, MAV

I was quickly captivated by the roll of the rhyme and imagery depicted in Eliner J Pinczes' One Hundred Hungry Ants.

It's a simple idea - 100 ants march to a picnic to get 'yummies for our grumbling tummies'. It demonstrates different ways to make 100 as a rectangular array. The 100 ants start marching in one row before the littlest ant exclaims that they are marching 'way too slow' and as such suggests that the ants march in two rows of 50 ants.

The ants scurry around to create the new formation… but are they simply wasting time? From one row of 100 ants to two rows of 50 ants and so on, they scramble until the ants marching in 10 rows of 10 to reach the picnic spot.

The story is catchy and repetitive in nature which enables children to quickly tune into the mathematical idea. The illustrations are vivid, whimsical and lively and a good visual representation of the mathematics.

This book could be a good introduction to arrays, ways to make 100 or division.

It would be suitable for Preps through to Year 4 students depending on the mathematical focus. Either way, students will enjoy this story, particularly the way it ends!

Using the book in your classroom Foundation

Foundation

Use a variety of materials to make 100. Explore a range of ways to organise the resources for ease of counting.ANTSCreate a class chart using the sentence starter 'Clever counters…'

Level 1/2
Use a variety of materials to model the different grouping arrangements for 100. Record these 'groups of' statements. For example 10 groups of 10 is 100.
Alternatively use 12 and 24 and arrange these numbers into arrays and record using the groups of expression or the division version of shared between eg 24 shared between 4 groups is 6.

Level 3/4
Go on an arrays hunt. Locate and record the arrays that can be found around the classroom and or school. Take a photo of the array and record an appropriate number sentence using multiplication or division.
Investigate factor, factor, product relations. For example, explore a range of numbers and create a list of all of the factors for each number (product). Use hands on resources to support the investigation and recording.

Sophie's Prize by Jennie Marston, illus. by Lexie Watt

Contributed by Dr Sharyn Livy, Faculty of Education, Monash University

The Mathematical Association of Victoria's bookshop has grown, providing a range of titles that can be read with different age groups to generate mathematical activities in primary classrooms.
Children's literature can provide a rich environment where mathematical ideas can be explored by:

making connections to student lives
promoting opportunities for problem solving and mathematical reasoning
integrating of mathematical content

One of our newest picture books, Sophie's Prize, written by Jennie Marson and illustrated by Lexie Watt, can be read for the enjoyment of the story and illustrations or used to encourage mathematical thinking within a realistic situation. It is most suited to early primary years.

Sophie is the main character and thinks that she is the richest girl in Australia when she wins $100 in an art competition. The story provides an opportunity to discuss how Sophie should spend her money.
Knowing how to manage personal finances is a feature of everyday life. Introducing students to financial literacy in the early years will assist students as they consider their needs and wants into the future

Student Reflection

Zeke enjoyed reading the book, 'It's good because it tells people how to use their money. I give it seven out of ten.'
Zeke asked his brother Finn to comment, 'Good book because it teaches you about money and knowing how much it is worth. Plus thinking about what to do with it. I think it would be a good book for Preps to Year 1.'

After Reading Sophie's Prize

discuss with students what they could buy with $10, $20, $50 or $100
bring catalogues into the classroom and students can decide how best to spend the money by making a poster
older students might prepare a meal or party budget using catalogues
plan the cost of a family day to the art gallery or somewhere else
draw a map of your family outing
create a timetable of how you will spend the day.

Uno's Garden by Graeme Base

Contributed by Josh Shuttleworth - Year 1/2 teacher, Derrimut Primary School

From the author of childhood favourites 'Animalia', 'The Eleventh Hou'r and 'The Worst Band In The Universe', comes Graeme Base's thought-provoking story, 'Uno's Garden'. Set in a beautiful forest full of colourful flora and fauna, this tale explores the ideas of sustainability and environmental responsibility.

The story begins with Uno deciding to move into the forest, but it isn't long before others follow suit. As more people move into the area, plants and animals are gradually replaced with buildings and roads. It isn't belong before the city is nothing but concrete and steel, with not a hint of nature in sight.

Uno tries to repair the damage by planting and tending to his own garden, but he grows old and dies (as does the recurring creature, the Snortlepig). Luckily, others within the community take responsibility for the garden, and the plants and animals slowly return to the area – except Snortlepig. The story ends with a message of hope that one day, this creature might return.

Uno's Garden provides a range of teaching opportunities across different curricular areas, with its exploration of narrative structure and patterns, alliteration, and Dahl-esque creation of words for literacy, links to sustainability for science, and numerical patterns and number facts for maths.

The books features a tally of animals, plants, buildings, and the Snortlepig on each page. They change over time in different ways, with some doubling, some looking at square numbers, and some increasing or decreasing by one at a time. This variation allows the text to be explored across different year levels.

The Snortlepig is hidden on each page, which also lends itself to exploring location-specific language. Is he under the tree? To the left or right of the house?
Overall, this is a book that students and teachers alike will love thanks to its detailed illustrations and relatable story. It should make for an engaging link to maths in your classroom.

What the Ladybird Heard by Julia Donaldson

Contributed by Alicia Clarke - Foundation classroom teacher, St Mary's Primary School Whittlesea

What The Ladybird Heard is a beautifully illustrated picture storybook with a strong focus on locational language. The book tells the story of two thieves who plan to steal the prize cow from a farm. Unfortunately for them, the little ladybird overhears their plans and enlists the help of the other animals on the farm to stop the thieves in their tracks. To add to the fun, the story is full of rhyme, with the extra challenge to the reader to find the sparkly ladybird hidden on each and every page.

The mathematics within the story becomes evident as the thieves describe how they will steal the cow, using words such as turn right, round, past, left, straight ahead and through.

There is also a map (drawn by the thieves) which opens up some lovely possibilities for discussion about direction and location of objects on the farm.

Location comes under the strand of Measurement and Geometry in the Australian Curriculum. At the Foundation Level, students are expected to be able to 'describe position and movement'. At Level 1, students are expected to 'Give and follow directions to familiar locations'.

What The Ladybird Heard provides the perfect context within which to explore these content descriptors. This is an outline of a Foundation lesson using this book as a springboard for the teaching and learning of locational language.

This lesson was at the beginning of a unit on location for these Foundation students, the second session of the unit. The students had previously had some exposure to locational language, where they had positioned themselves on the playground and discussed where they were.

To begin this lesson, we read through the book, simply enjoying the story and predicting what might happen. We then went back through the text, focussing on the part of the story where the thieves described where they would go on the farm. From this page, we made a list of 'words that tell us where' (see below). Students were then able to add to the list from their experiences in the previous lesson.

As a class, we then made our own farm, with similar animals to the story, and used the thieves map to place the animals on the farm.

Students took turns to follow the directions given by the thieves to move a character around the farm. We then extended this, giving extra directions, and writing the location words on cards.

During this, the following prompting questions were used:

Where is the cow?
Where is the sheep?
Where would the thieves go to get to the cow from the sheep? (etc).
Can you place the duck beside the cow?
Can you move the sheep around the pond?

Students then had a chance to draw their own map of the farm. They then used our 'where words' to tell the teacher something about the position of one of the items on their farm, and the teacher scribed this sentence on their work.

The above lesson was successful because the students were highly engaged – the picture storybook had given them a clear and interesting context within which to place their learning. The lesson was hands on – students were able to physically move the animals around the farm, allowing them to develop a deeper understanding of the meaning of each word. The final activity allowed me as a teacher to gather some information about whether the students could use locational language to describe the position of an object.

What The Ladybird Heard is an engaging way to immerse students in the teaching and learning of location. It is particularly appropriate for students in the early years, and the above lesson is just one of the many ways this book could be used in the classroom. There is a sequel to this picture book, What The Ladybird Heard Next, by the same author, which would be a fantastic way to extend and build upon this learning.

How Full Is Your Bucket? by Tom Rath , Mary Reckmeyer

Contributed by Mel Lowndes - Three year old kinder educator, Windsor Children's Community Centre

Picture books are full of an amazing range of teaching and learning opportunities. While some may be written for explicit teaching purposes of mathematics, others may have concepts embedded or perceived throughout the text. How Full Is Your Bucket? can be used throughout a child's education to discuss concepts such a relationship and a growth mindset. It is also a great way to scaffold mathematical understandings of measurement.

Here is a reflection on how I utilised the book with my three year old class at Windsor Children's Community Centre to explicitly teach social skill whilst embedding concepts of measurement.

Introducing the kindergarten children to How Full Is Your Bucket? has provided an opportunity for collaborative and engaging discussions for both children and educators. The story, which can gauge emotional capabilities of readers, is an effective tool translating the concepts of kindness, gratitude and positive social interactions and the benefits of these intrinsic values.

The children were able to absorb the ideas shared and question their own understanding throughout. Questions like, 'what colour is your invisible bucket?' and 'how can I fill your bucket, Mel?' The illustrations amplify the concept as the kinder children could see the levels increasing or decreasing, explicit mathematical concepts around measurement, which can also show the variations in emotional states.

What we learnt as a small community is that we all have a bucket and that our emotions are what makes us human. Having a child come and tell you how they have filled another peers bucket on their own accord, confirms that this piece of literature is relevant and can reinforce positive view points for all involved. Children have the capacity to care and empathise and this material is needed in our early childhood sector. Having positive stories creates children who ponder, wonder and allow all to belong.

How Full Is Your Bucket? is available at the MAVshop.

Sort it out! by Barbara Mariconda

Contributed by Alica Clark - Foundation teacher, St Mary's Whittlesea

Mathematics is made up of skills and concepts that can sometimes seem difficult for small children to relate to. Placing these skills and concepts into a context that they can understand and engage with is vital during the early years. Picture storybooks have become well known amongst mathematics educators as a highly effective way to achieve this relatable context and engagement.

Sort It Out! is a colourful picture story book written by Barbara Mariconda and illustrated by Sherry Rogers. It is about an inquisitive rat, Packy, whose greatest love in life is to collect all kinds of objects.

When his mother tells him to 'sort it all out' he sorts and groups his collection in various ways, such as by colour, by size, by texture and by purpose. Although this text was written with an explicit mathematical objective in mind, children will love listening to the rhyming text and studying the detailed illustrations, and will enjoy the mysterious nature of the ending where Packy must discover where all of his collections are disappearing to!

Here is an outline of a session undertaken with a group of Foundation students on sorting and classifying, using this picture storybook as a springboard. At the Foundation level, students are expected to: 'Sort and classify familiar objects and explain the basis for these classifications' (Victorian Curriculum: http://victoriancurriculum.vcaa.vic.edu.au).

The session was one of the first in a unit on sorting, classifying and pattern, and it is important to note that the activities that follow were completed over two lessons.

We read the story, spent time looking at the illustrations, and studyed what Packy the Rat sorted into each group. For each group that Packy made, we looked around our classroom and found other things that would fit into that group, for example, when Packy sorted all things that were green, we found a green crayon, a green texta, a green counter and a green unifix cube. The students were very engaged – they had a character that they could relate to, and they were taking an active part in the story by 'helping' Packy with the sorting of his collections.

Then we used 'Packy's Sorting Cards' (a very useful, photocopiable resource provided at the back of the book) to practise sorting as a whole class. Students sorted the cards according to various criteria, such as long objects and short objects, things you can eat and things you can't and so on. I encouraged students to verbalise why they were grouping objects and justifying why objects didn't fit belong.

Following this, students were placed into small (mixed ability) groups and were told to 'be like Packy.' They spent a few minutes moving around the classroom space to collect different objects. Each group was then given sorting hoops and asked to sort the objects they had collected.

It was interesting to see the creative ways the Foundation students were able to do this. Again, students were encouraged to verbalise and justify their classifications. At the end of the session each group was asked to share one way they grouped their objects.

Sort It Out! provided an amazing beginning to our sorting and classifying topic. This is just one way that this story can be used as a mathematical springboard. There is a helpful section for teachers at the back of the book, with other suggestions about its use in the classroom. It has ideas to extend students such as creating graphs about each group Packy made, as well as some links to literacy

Sort it out! is available at the MAVshop.

The Art of Clean Up by Ursus Wehrilli

Contributed by Dr Sharyn Livy - Lecturer, Monash University, and Johnson Alagappan - Year 2 teacher, Gilson College

As teachers of mathematics, we are always keen to find a new picture story book that will engage students by making mathematical connections. But how might we engage students with only pictures and no words?

Recently we taught a lesson, using the picture book, The Art of Clean Up by Ursus Wehrilli.

Before looking at the book, the Year 1 children at Gilson College did not believe that the book had no words. 'That's because it is a picture book,' Sharyn said.

Together we explored the pictures including before and after photographs. In the book, Wehrili (2013) has taken a photograph, then a second photograph where everything from the first photograph has been rearranged. Imagine your fruit salad sorted into a picture graph showing 15 slices of apples to 12 slices of bananas (Figure 1).

When looking at the photographs with the children we asked them to describe what was different about each photograph. After reading the story Sharyn posed a challenge to the students: 'Now it's your turn to tidy up!'

Johnson (the classroom teacher) and Sharyn tipped out tubs of stuff they had prepared before the lesson and let the children tidy up. They didn't need our help as they worked together, engaged in the art of clean up. If only their parents knew! Many tidied up by colour, others sorted by size, or other attributes such as rough and smooth.

In Figure 2, can you work out how Bobby and Mia chose to tidy up the alphabet letters?

Bobby, told us that he tidied the letters first by colour. When describing their solution shown in Figure 2 Bobby and Mia described their sorting of letters,

'By circley, ones that go like round, ones like an x and ones with straight lines.'

Before long everything in the classroom was getting tidied up including the pencils and rulers (Figure 3).

We both really liked this lesson because it made connections to reasoning and problem solving. The children had to justify their groupings and consider how many different ways they could tidy up.

This lesson and the use of picture story books can promote a child-centred approach to learning, providing many opportunities to highlight the relevance of mathematics with quality conversations about mathematical concepts. We hope you will consider sharing stories with students as part of your mathematics lessons throughout the year.

The Art of Clean Up is available from the MAVshop. For more engaging lesson ideas, check out Engaging with Mathematics Through Picture Books which is also available from the MAVshop.

These support pages were produced using Strategic Partnership Program funding from the Department of Education and Training.