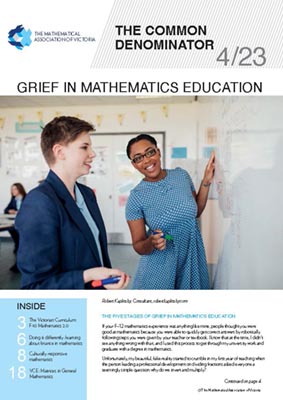 MAV's quarterly magazine for mathematics educators provides information and articles about the MAV and its activities, and maths education in general.
Download the latest and past editions
Contribute an article
Contributions are welcome, and copy is due 8 weeks prior to the mailing dates. Download the writing guidelines for more information or contact office@mav.vic.edu.au.
MAV Publications Policy
MAV's publications policy provides information about submission and acceptance of articles for publications, and introduction to the purpose of our Magazine and Journals. You can download it here.
You can download the MAV Contributor Agreement form here.
Advertising opportunities
We welcome advertising in the magazine or as an insert with our mailout.
If you are interested in targeting mathematics educators please see our rate card and contact Louise at Stitch Marketing for more information: Louise@stitchmarketing.com.au.
Recent editions