Victorian Challenge and Enrichment Series: Maths Games days

MAV is excited to be running maths games days to be delivered across the state between Sept 2020 and Dec 2022 as part of The Victorian Challenge and Enrichment Series.
Due to this project being funded by the Victorian Department of Education and Training, it is only available to government schools in Victoria.

Available free to students in Years 7-10
MAV will deliver a series of Mathematics Games days for students from year 7 to 10. These will be delivered across the state, in metropolitan and regional schools.
Each venue will host a separate year 7/8 day and a year 9/10 day.
The aim of this program is to challenge high ability students in a fun, challenging, collaborative and competitive mathematics-based games day.
Teams of students compete for a variety of prizes including individual prizes for creativity, contribution to group work, and lucky door prizes. Lateral thinking wins the day!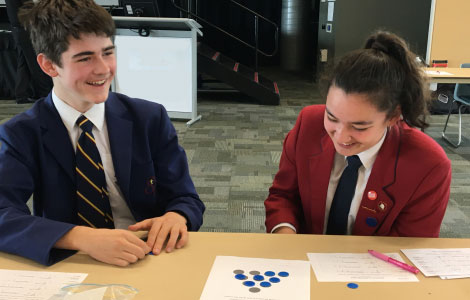 A Maths Games Day is an opportunity for students to;
apply and develop their mathematical talents and thinking skills in a setting where Maths is regarded as fun and worthwhile;
work with like-minded high ability students from a diverse range of schools;
participate in mathematical activities and games without the usual classroom pressures;
work effectively in teams and develop strategies to work collaboratively to solve problems;
enhance their problem-solving skills;
get excited about mathematics, whilst being rewarded through prizes and awards.
Enrolment:
Enrollment is only for high ability students in metropolitan and regional Victorian Government schools.
Activities will be appropriately tailored to the needs of high-ability students.
Activities will be free for participating schools and students.
Bookings can be made through our events page, once events open for registration.

For questions contact Jess mount: jmount@mav.vic.edu.au
Venues and dates:
Games days start in term 2 2021 at venues around the state as listed below until end of 2022.
At all venues: Start time: 9.45am, End time: 2.30pm
Regions

Location/Venue

Term

Date

Year levels

Student capacity

North Eastern
Victoria Region

Mildura: Chaffey Secondary College

2, 2021

Tues 8 June, 2021

7/8

75

Mildura: Chaffey Secondary College

2, 2021

Wed 9 June, 2021

9/10

75

Bendigo Senior Secondary College

2, 2021

Tues 15th June, 2021

7/8

75

Bendigo Senior Secondary College

2, 2021

Wed 16th June, 2021

9/10

75

Swan Hill/Kerang, Venue TBC

3, 2021

TBC, 2021

7/8

75

Swan Hill/Kerang, Venue TBC

3, 2021

TBC, 2021

9/10

75

Coburg, Venue TBC

3, 2021

TBC, 2021

7/8

150

Coburg, Venue TBC

3, 2021

TBC, 2021

9/10

150

Roxburgh Park, Venue TBC

2

2022

7/8

150

Roxburgh Park, Venue TBC

2

2022

9/10

150

North Western
Victoria Region

Shepparton, Venue TBC

2, 2021

TBC, 2021

7/8

75

Shepparton, Venue TBC

2, 2021

TBC, 2021

9/10

75

Wangaratta, Venue TBC

2, 2021

TBC, 2021

7/8

75

Wangaratta, Venue TBC

2, 2021

TBC, 2021

9/10

75

St Helena, Venue TBC

2, 2021

TBC, 2021

7/8

150

St Helena, Venue TBC

2, 2021

TBC, 2021

9/10

150

Box Hill Secondary College

2, 2021

TBC, 2021

7/8

150

Box Hill Secondary College

2, 2021

TBC, 2021

9/10

150

Scoresby Secondary College

3, 2021

Mon 2 Aug 2021

7/8

150

Scoresby Secondary College

3, 2021

Tues 3 Aug, 2021

9/10

150

South Eastern
Victoria Region

Sale

3, 2021

TBC, 2021

7/8

75

Sale

3, 2021

TBC, 2021

9/10

75

Lakes Entrance

3, 2021

TBC, 2021

7/8

75

Lakes Entrance

3, 2021

TBC, 2021

9/10

75

Warragul

3, 2021

TBC, 2021

7/8

75

Warragul

3, 2021

TBC, 2021

9/10

75

Berwick; Casey Tech School, Chisholm Institute

2, 2021

Mon 21 June 2021

7/8

150

Berwick; Casey Tech School, Chisholm Institute

2, 2021

Tues 22 June 2021

9/10

150

Frankston

2

2022

7/8

150

Frankston

2

2022

9/10

150

Caulfield

2

2022

7/8

150

Caulfield

2

2022

9/10

150

South Western
Victoria Region

Geelong

2

2022

7/8

150

Geelong

2

2022

9/10

150

Warrnambool

3

2022

7/8

75

Warrnambool

3

2022

9/10

75

Horsham

3

2022

7/8

75

Horsham

3

2022

9/10

75

Ballarat

3

2022

7/8

100

Ballarat

3

2022

9/10

100

Sunshine

3

2022

7/8

150

Sunshine

3

2022

9/10

150

Hoppers Crossing

3

2022

7/8

150

Hoppers Crossing

3

2022

9/10

150