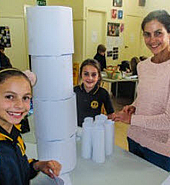 On this page you will find a hand-picked selection of puzzlers, warm-up games and homework ideas from MAV archives and beyond.
Primary Maths Puzzles and Investigations
A living collection of Prime Number magazine's F-6 puzzlers and investigations to promote a problem-solving classroom culture.
Top Drawer Warm-up Games
A collection of 'go-to' resources, these games are easy to set up and are guaranteed to fire the hearts and minds of your students. Paul Swan promotes the practice of revisiting the same game over a number of days in succession, as students tend to explore the maths at a deeper level once they have established familiarity with how it is played. Try one of these!
Maths Beyond the Classroom Walls
Maths around the Kitchen Table. A collection of tasks designed as a starting point to encourage maths around the kitchen table. A terrific resource to promote with your parent community.
Victorian Maths Challenge. A fun and engaging way for families to investigate real-life mathematics. Get parents and kids to try this at home, or use the resources to organise a family maths activity at school.

These support pages were produced using Strategic Partnership Program funding from the Department of Education and Training.