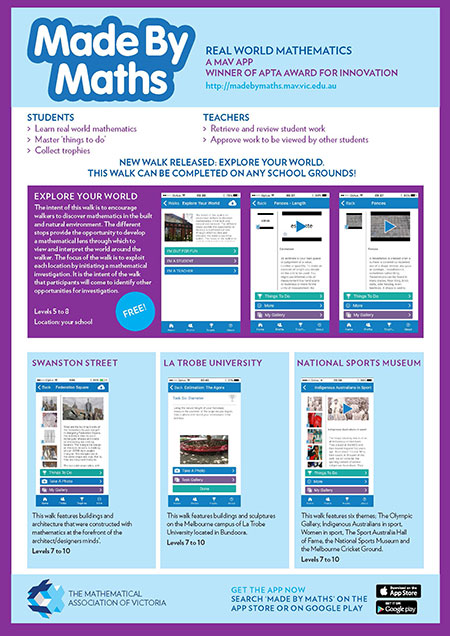 MAV's Made By Maths app is a comprehensive guide that explores mathematical beauty of key landmarks, structures and architecture in Melbourne.
Aimed at students and teachers to connect mathematical classroom learning with real world mathematics. Key mathematical terms are explained and explored through engaging and supportive graphics. The ability to take in-app photos of your journey and complete "Things to Do" challenges further enhances this learning experience.
The content was developed by The Mathematical Association of Victoria and is a rich and entertaining source of information. It is aimed at inspiring school students to continue their appreciation of mathematics.
New packages will be added and will be available through in-app purchasing when available.
App features
Historical and mathematical information
Videos, graphics and text that supports mathematical concepts
'Things to Do' section for each mathematical walk and landmark
Photo journal – create one for your personal experience
Self-paced learning
All data collected by the app will be available to view at madebymaths.mav.vic.edu.au.
Teachers and groups
To enrich learning, teacher resource materials are available. These resources are aimed at supporting teachers to organise their schools/classes excursions and can be found here.
To set up a school or group account, register your details and receive a code at madebymaths.mav.vic.edu.au.
Privacy policy
We do not collect or share personal information captured by the app with third parties.